Moon+ Reader Pro for Android - Moon+ Reader is a feature-rich ebook reader for Android phones and tablets. The app supports multiple online book libraries, allowing you to read thousands of books for free.
Moon+ Reader can open a wide range of file types, including txt, html, epub, pdf, mobi, umd, fb2, chm, cbr, cbz, rar and zip. In addition, it supports the OPDS format for accessing digital book catalogs. The Pro version also features powerful PDF editing capabilities, such as filling forms, highlight, annotation, handwriting.
Moon+ Reader Pro for Android features:
· Full visual options: line space, font scale, bold, italic, shadow, alpha colors, fading edge etc.
· 10+ themes embedded, includes Day & Night mode switcher.
· Various types of paging: touch screen, volume keys or even camera, search or back keys.
· 24 customized operations (screen click, swipe gesture, hardware keys), apply to 15 customized events: search, bookmark, themes, navigation, font size and more.
· 5 auto-scroll modes: rolling blind mode; by pixel, by line or by page. Real-time speed control.
· Adjust the brightness by sliding your finger along the left edge of the screen, gesture commands supported.
· Intelligent paragraph; indent paragraph; trim unwanted blank spaces and lines options.
· Backup/Restore options to cloud via DropBox, sync reading positions, bookmarks, highlights and notes between phones and tablets.
· Highlight, Annotation, Dictionary (Offline or Online, support Google, ColorDict, Fora, etc.), Translation, Share functions.


What's New in This Release:

· Fix a TTS stop bug in HTC phones
· Fix a TTS repeat bug in PDF landscape continuous mode
· Fix a layout bug in hyphenation mode with special content


What's New in 2.1:

· (Pro) New full PDF annotations support, includes free text, ink, line, arrow, rectangle, ellipse, highlight, note, etc. Create and modify annotations with size, color, thickness, comment, etc.
· (Pro) PDF thumbnail function update, faster and smoother
· (Pro) Update "Tilt to turn page" with sensitive control and more
· Update highlight render for epub/fb2/txt/mobi
· Update book import procedure, faster and more stable


What's New in 2.0.1:

· (Pro version) New page turning method for lazy man: tilt device to turn page
· (Pro version) Bluetooth controls update for TTS: pause/resume/next/prior, etc.
· Improve text-select for dual-page mode, allow selecting across pages
· Optimize for new Nexus 7 II HD
· Improvements for file sort, epub3 video, page turning effect, links in html book, etc.


What's New in 1.9.8.0:

· Annotation function improvements
· Update publisher formatting preview mode
· Enlarge book image to full screen by long-tap action instead of zoom button
· Optimize 3D page turning effect
· Optimize html with multiple empty lines and tab symbols
· Rename file operation in regular format directly
· Popup menu in My Shelf shows book description directly


What's New in 1.9.7.0:

· New 3D page turning effect (Visual Options -> Flip Animations)
· Various rendering optimizations, especially for Android 4.2


What's New in 1.9.6:

· Improve PDF functions
· Support most of the special .ttf fonts
· Update auto-scroll in night mode
· Allow use volume keys to adjust brightness
· Improve loading speed for txt books
· Optimize page turning effects, erase lag issues
· Fix several mobi/epub loading bugs


What's New in 1.9.3:

· New reading progress on book cover option
· New book cover render quality option
· New memory management structure for fb2 book, support 50M+ books now
· Optimize image display for 1080p phones and super density tablets
· Support password-protected OPDS book covers
· Press back key to show link navigation history
· Update Arabic language package


What's New in 1.9.1:

· Update Brazilian Portuguese, Ukrainian language packages
· Optimize text-to-speech for TXT books
· Support open super big book files via Dropbox directly (>100MB)
· Add support to PDF keywords, subject MetaData
· Improve compatibility to big fb2.zip book files
· List books in My Shelf with no case sensitive order
· Fix italic text cut issue at line end
· Fix a pdf highlight color bug


What's New in 1.8.9:

· New year special function: Allow set brightness to 50% lower than system lowest value (swipe left edge of screen to adjust)
· Fix bugs in Android 4.2 multiple user accounts


What's New in 1.8.7:

· Add app unknown error catch and report module - please send us the error information if you get it.
· Fix sync via dropbox error in some ROMs, if you installed dropbox app, please upgrade to the latest version 2.2.1+
· Fix last reading progress incorrect issue in some special conditions


What's New in 1.8.6:

· Add support to Galaxy Note2/Note10.1 multi-window mode.
· Faster response speed for turning page with flip animation.
· Update Text-Selection: 1)allow selecting text cross pages; 2)allow tap+dragging to select text; 3)larger drag area, easier to control.
· Update search function for My Shelf, search fields and case sensitive option available.


What's New in 1.8.5:

· Pdf document: allow zoom level up to 8x (set in Pdf Options)
· Pdf Plugin: allow install to sdcard
· Add page turn sound option (in Misc Options)
· Optimize trim empty line algorithm (delete all)
· Optimize hyphenation algorithm (disable "!"/"?" at line start)
· Fix real page turning effect bug in Samsung Note2/SIII 4.1 ROMs
· Fix a text encoding bug in FB2 books


What's New in 1.8.4:

· EPUB books: improve loading speed of big files for about 100%.
· CBR/CBZ comics: support thumbnail smooth scrolling; improve image rendering speed.
· PDF documents: support CMAPS/UMAPS Asian languages Pdf files.
· TTS: optimize punctuation-to-speech (e.g.: ignore single quote sound).
· Fix a search result location bug, a sync bug


What's New in 1.8.3:

· Improve Pdf compatibility with various languages, font styles and typesettings.
· Improve inner link performance for epub books.
· Add status bar click events to Control Options.
· Support open CBZ/CBR books directly from file manager Apps.
· Update Korean language package.
· Miscellaneous small optimizations for reading progress, turning page, etc.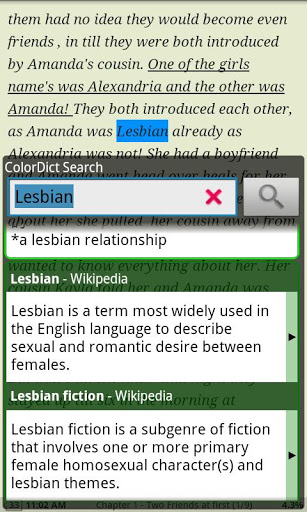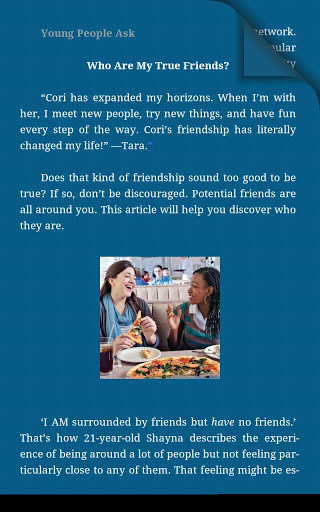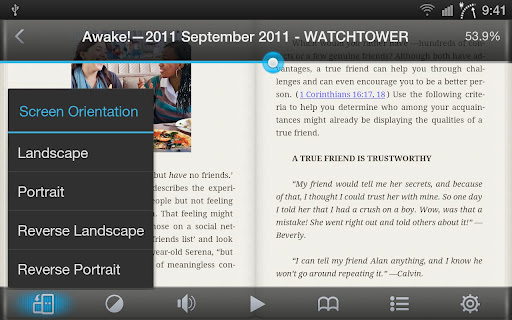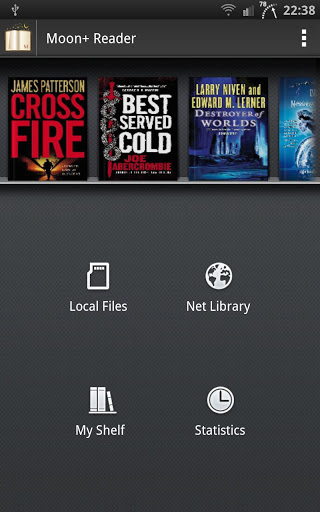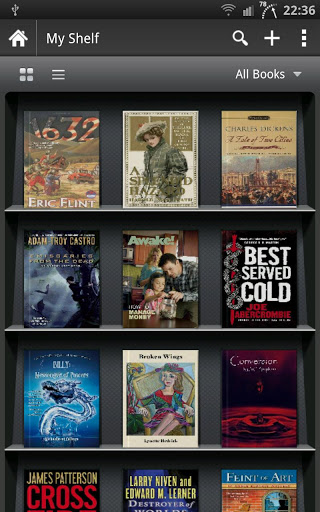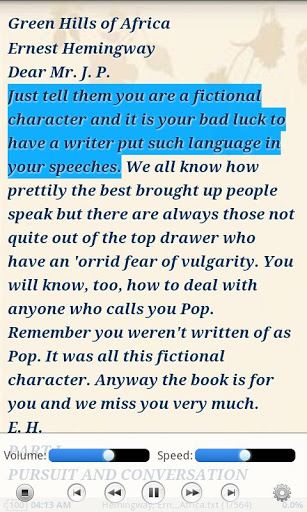 Supported operating systems:
Google Android 10.x, Google Android 2.2, Google Android 2.3, Google Android 3.0, Google Android 3.1, Google Android 3.2, Google Android 4.0, Google Android 4.1, Google Android 4.2, Google Android 4.3, Google Android 4.4, Google Android 5.x, Google Android 6.x, Google Android 7.x, Google Android 8.x, Google Android 9.x
Similar Software:



S4BB Ebook Reader


Read S4BB eBooks!

Hunky Punk


Hunky Punk is an interactive fiction manager and interpreter for Android, aimed to be a comprehensive multi-interpreter similar to Gargoyle, with metadata and story management support. Currently Z-Code stories are supported and metadata is fetched from IFDb

eBoox: Book reader


eBoox - is the nicest reader for Android devices. This application has handy interface and is advertisement free. Besides, it is very easy to download books to this reader and to read the. The utility supports all main formats of electronic books: fb2, epub, mobi and others

Kindle for Android


Kindle for Android - Read over 700,000* Kindle books, including thousands of free books. What's New in This Release: · Bug fix: Crash when opening a book on some devices What's New in 4.4.0

Mobo Read


Mobo Read - A powerful reader that gives you a more creative reading experience with various turning effects, it's almost like reading a real book. Create your own private library with this simple Android application

MultiReader (Android)


MultiReader (Android) - MultiReader can read for you PDF, text documents... MultiReader (Android) features: · Different voices providers: Vozme, AT&T · French (FR,CA), German, several English accents (US,UK,IN), several Spanish accents (US,ES), Portuguese voices · Male/Female voices

Mantano Reader


Mantano Reader - Mantano Reader is a powerful ebook reader that makes it easy to enjoy your favorite books right on your Android smartphone or tablet. The app can open the most popular ebook formats, such as EPUB and PDF, including files protected by Adobe DRM. Mantano Reader also allows you to download and purchase books, as well as to organize your entire collection

Android Lektz Reader


Android Lektz Reader - Lektz is an easy to use ebook reader application that ensures a pleasant reading experience. The reader interface has a fresh feel and smooth transitions that makes you read book after book on it. Lektz Reader supports EPUB2, EPUB3 and PDF format ebooks on Android smartphones and tablets

FBReader


FBReader - is an excellent application for reading electronic books on Android devices. A user can change the performance according to his liking, customize background, font and activate night mode for mild effect on eye at night

FBReader TTS Plugin (Android)


FBReader TTS Plugin (Android) - Adds text-to-speech functionality to FBReader. We do not consider TTS as a serious FBReader feature. From our point of view this automatic reading is awful, at least for English and Russian. So the main goal of this plugin release is to demonstrate how to write FBReader extensions using our plugin API