SlovoEd is a series of top-quality monolingual and bilingual dictionaries for S60 3rd Edition devices. There are over 120 dictionaries available for 29 languages. It is an excellent solution for professional linguists, translators and typical users.
Work, study and travel with SlovoEd Classic English-Russian-English dictionary in your pocket from Russkiy yazik Media. Contains 103788 entries.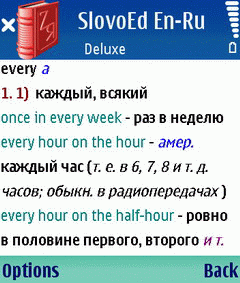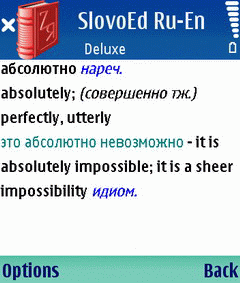 | | |
| --- | --- |
| | English-Russian dictionary - 50 197 entries |
| | Russian-English dictionary - 53 591 entries |
New Updated SlovoEd Engine with a lot of unique features included helps you to find the easiest and most effective way to study and improve foreign language:
Find the translation of the word in any grammatical form with help of built-in Morphology Module for English, French, Russian and Spanish languages.
Virtual Keyboard allows entering words in any language of SlovoEd dictionary even if your phone does not support it. (only for S60_3.x devices)
NEW!!! Translate not only words but also word combinations. Now the dictionary can translate word combinations word by word (only for S60_3.x devices).
SlovoEd Online Update easily check for updated software versions and download to your device.
Online dictionary catalog where you can download new dictionaries directly to your device.
NEW!!! Copy entries to the clipboard. You can paste a dictionary article into your messages, e-mails, notes, etc (only for S60_3.x devices).
Flash Card Quiz enables you to add new words to flash cards and test your knowledge as many times as you wish. (only for S60_3.x devices)
Irregular verbs for all English dictionaries. (only for S60_3.x devices)
Find the word even if you do not know its exact spelling using wildcards ("*", "?", etc.) (only for S60_3.x devices)
Read built-in help (tips) and up-to-date documentation on English, French, German, Spanish, Italian and Russian languages.
Use dictionaries on devices with touch screen
Interface language is available in Dutch, English, French, Greek, German, Italian, Spanish and Russian.
You can also buy SlovoEd Sound Module which helps you to speak foreign language properly. Check correct word pronunciation with SlovoEd Sound Modules, containing pre-recorded voice of English, German, Spanish, Italian and French native speakers.
Supported operating systems:
S60 3rd Edition, S60 3rd Edition FP1, S60 3rd Edition FP2, S60 5th Edition