Welcome to GUN CLUB 2 - the most feature rich, graphically intense & technically accurate gun simulator on the AppStore, and we've finally gone freemium! That's right, FREE! Enjoy the jam-packed selection of interactive weaponry for free and find out for yourself why GUN CLUB 2 is the most downloaded gun simulator anywhere!

WEAPONS INCLUDED:
· NEW HK USP Pistol
· Springfield 1903 "Uncle Sam"
· M203 Grenade Launcher
· MP-7
· MG-3 Heavy Machine gun
· TDI Vector
· Glock 18 automatic handgun
· SPAS-12 semi-auto Shotgun
· M60
· MP5 with Stock, Grip & Scope attachments
· AWP Sniper Rifle
· Desert Eagle .50AE Handgun
· ARX-160 Assault Rifle with GLX-160 Grenade Launcher
· Colt 1911 Handgun
· Classic Army Colt
· MAC-10 Sub-Machine gun
· .45 Colt Python Magnum Revolver (includes free-spinning barrel)
· Remington 12 gauge Pump-Action Shotgun
· AK-47
· M-16 with Bayonet attachment
· Flame Thrower
· Grenade (multi-touch interaction)
· Chainsaw
· Vulcan M134 Minigun
ALL WEAPONS FEATURES:
· Shell discharge (full and empty)
· Both unique sides of every weapon
· Firing mechanic
· Recoil animation
· Muzzle flash / Flames & smoke
· Reload animations
· Real-time clip, gauge and magazine feedback
· Auto / semi-auto fire modes where applicable
· Zoom & free-look mode to examine each weapon closely
· Authentic sound recordings for all actions
· Detailed instructions on how to use each weapon (simply press the "?" at any time for help)
· Too many features to list & more being added with every update
What's New in This Release:

· Added Free Arwen 37
· Changed 'Settings' to 'Menu' in simulator to better help uses discover how to exit the weapon and return to the lobby
· Added US NAVY SEALS Pack featuring: M14 SOCOM, Mossberg 590, M1014 Tactical, USP Tactical, MP5SD3, MK11-0, MK18-0, MK43-0

What's New in 3.5:

· New interface design throughout!
· FREE M1 Bazooka!
· Added Russian Rail Pack featuring: Mosin Nagant 189130 PU Scope, SKS Carbine, DP-28, ZPU-4 AA Gun, 21-K 45mm AA Gun, M1942-ZIS-3, MAXIM M4 AA Gun, ML 20 Howitzer, AXP S-60 AA Gun, M1915 305mm Howitzer

What's New in 3.4.4:

· Enhanced SPAS12 shotgun interactivity
· Enhanced M60 Heavy Machine gun interactivity

What's New in 3.4.3:

· Continued efforts in tracking down a crash bug for some users

What's New in 3.3:

· Added Flintlock .50 CAL Pistol
· Added new Pirate Pack featuring: Navy Flintlock, Blunderbuss, Brown Bess, 1777 Corrige AN IX, Double Barrel Flintlock, Cannon, Pocket Flintlock, Bomb
· M4A1 SOF CQB Texture Updated
· M4A1 now ejects bullets on a chambered slide
· App will no longer crash when trying to access not yet purchased guns in the Encyclopaedia
· SPAS12 Unlimited Ammo bug fixed
· SPAS12 will no longer lose a shell on semi auto mode
· Colt Detective Special ammo indicator will now display the correct ammo count
· We're also revisiting the original collection of weaponry and adding advanced interactivity and updated graphics - enjoy the new MAC-10 and AK47!

What's New in 3.2:

· Since version 3.1, please note that due to a recent change in approvals, we are no longer able to offer the Club Coins (Tapjoy) system at this time. If you have unspent Club Coins, we advise that you spend them before updating to this latest version. Please visit our forums at thebinarymill.com/forum/ for further information on this change.
· Added new free M4A1 CQB SOF
· New quick link feature (simply tap the page number)
· Added ACR sights functionality
· Added U.S. COAST GAURD PACK featuring: Bushmaster M242, H&K GMG, M2 Browning, M14 EBR, M79 Thumper, M870, MP5K, Sig Sauer P226
· New "All Access Pass" InApp added: This will unlock all current and yet to be released packs. Never need to purchase a themed weapon pack again with this pass.
· New Six Pack #2 InApp added
· Starting page now the first weapon rack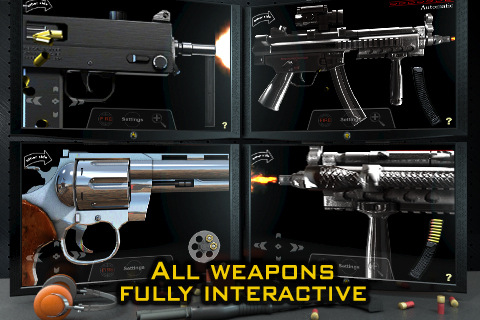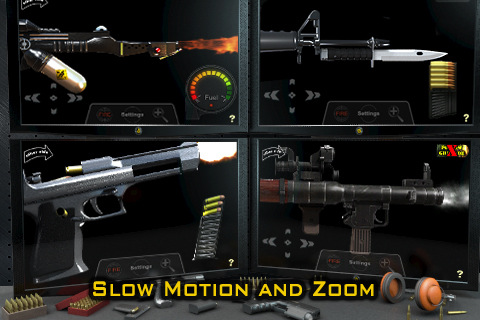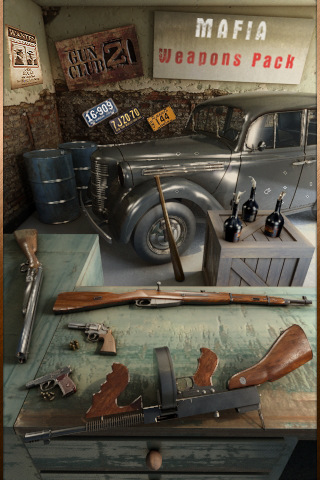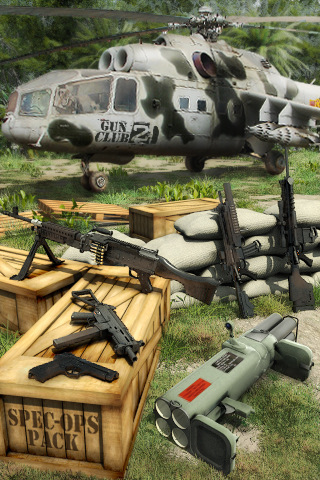 Supported operating systems:
Apple iOS 10.x (iPad), Apple iOS 10.x (iPhone), Apple iOS 4.0.x (iPhone), Apple iOS 4.0.x (iPod Touch), Apple iOS 4.2.x (iPad), Apple iOS 4.2.x (iPhone), Apple iOS 4.2.x (iPod Touch), Apple iOS 4.3.x (iPad), Apple iOS 4.3.x (iPhone), Apple iOS 4.3.x (iPod Touch), Apple iOS 5.0 (iPad), Apple iOS 5.0 (iPhone), Apple iOS 5.0 (iPod Touch), Apple iOS 6.0 (iPad), Apple iOS 6.0 (iPhone), Apple iOS 6.0 (iPod Touch), Apple iOS 7.0 (iPad), Apple iOS 7.0 (iPhone), Apple iOS 7.0 (iPod Touch), Apple iOS 8.x (iPad), Apple iOS 8.x (iPhone), Apple iOS 8.x (iPod Touch), Apple iOS 9.x (iPad), Apple iOS 9.x (iPhone), Apple iOS 9.x (iPod Touch), Apple iPhone OS 3.1.x, Apple iPhone OS 3.1.x (iPod Touch), Apple iPhone OS 3.2.x (iPad)