Lingopal German LITE is a fun iPhone application that gives you essential professionally translated phrases including audio. Best of all – it's free!


Lingopal makes it easier to meet people from other cultures, have real conversations, and have a lot of fun along the way.

Great for backpacking, business travel, multi-cultural living, and getting yourself into and out of trouble around the globe.

Use offline - no need for internet connection.

Upgrade to receive more categories and phrases.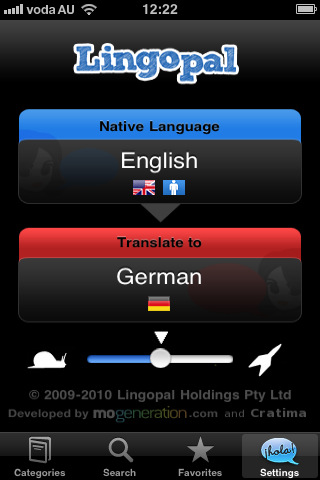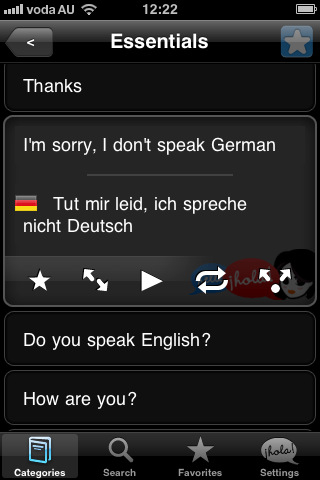 Supported operating systems:
Apple iOS 10.x (iPad), Apple iOS 10.x (iPhone), Apple iOS 11.x (iPad), Apple iOS 4.0.x (iPhone), Apple iOS 4.0.x (iPod Touch), Apple iOS 4.2.x (iPad), Apple iOS 4.2.x (iPhone), Apple iOS 4.2.x (iPod Touch), Apple iOS 4.3.x (iPad), Apple iOS 4.3.x (iPhone), Apple iOS 4.3.x (iPod Touch), Apple iOS 5.0 (iPad), Apple iOS 5.0 (iPhone), Apple iOS 5.0 (iPod Touch), Apple iOS 6.0 (iPad), Apple iOS 6.0 (iPhone), Apple iOS 6.0 (iPod Touch), Apple iOS 7.0 (iPad), Apple iOS 7.0 (iPhone), Apple iOS 7.0 (iPod Touch), Apple iOS 8.x (iPad), Apple iOS 8.x (iPhone), Apple iOS 8.x (iPod Touch), Apple iOS 9.x (iPad), Apple iOS 9.x (iPhone), Apple iOS 9.x (iPod Touch), Apple iPhone OS 3.1.x, Apple iPhone OS 3.1.x (iPod Touch), Apple iPhone OS 3.2.x (iPad)
Other Software by developer

«Lingopal Holdings Pty Ltd»

:



Lingopal Norwegian LITE - talking phrasebook


Lingopal Norwegian LITE is a fun iPhone application that gives you essential professionally translated phrases including audio. Best of all – it's free! Lingopal makes it easier to meet people from other cultures, have real conversations, and have a lot of fun along the way

Lingopal Finnish - talking phrasebook


Lingopal is a fun iPhone application that gives you over 900 professionally translated phrases including audio

Lingopal Malay LITE - talking phrasebook


Lingopal Malay LITE is a fun iPhone application that gives you essential professionally translated phrases including audio. Best of all – it's free! Lingopal makes it easier to meet people from other cultures, have real conversations, and have a lot of fun along the way

LINGOPAL 44 - multilingual talking phrasebook


A fun iPhone application that gives you hundreds of professionally translated phrases in 44 languages plus audio

Lingopal Serbian - talking phrasebook


Lingopal is a fun iPhone application that gives you over 900 professionally translated phrases including audio