File Explorer 2008 is a complex solution of the following modules:The File Manager, Recycle Bin, Today Plugin, Strong File Encryption, ZIP Compression, The built-in viewer, The Network Browser, The Registry Editor and The FTP add-in.
New Features
Full touch optimization
Letter bar navigation
Virtual Folders for all documents
Quick-search bar
The Quick Search Function
Advanced Network Settings
Key Features
Recycle Bin
FTP add-in
ZIP compression
Network browser
Registry editor (import/export/search)
Multi-language user interface
Navigation without stylus
Press'n'hold context menu
System info
Drag'n'Drop feature
search file/text in file
Folder Properties — recursive file attribute setting
File Types Highlighting
Status bar
File decryption in memory
quick "send to folder"
favorites — quick folder access
built-in viewer (text, jpg, png, bmp, gif...)
file association
format storage card(s)
send more files via IrDA (OBEX)
square screen devices supported
strong file encryption
encryption add-in for desktop PC
"Send To" add-in for desktop PC
Today Plugin with Task Manager
Modules
Full touch optimization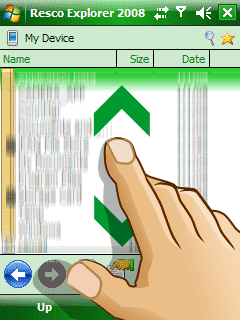 Quick and easy to use.
Navigate through your files easily using your finger
Toolbar optimized for using your thumb for quick access.
Letter bar navigation
The side letter navigation bar lets you access your files faster
Features the letter preview of the files you would like to access with the specific files showing up instantly
Virtual Folders for all documents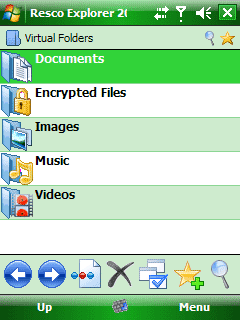 All file types associated with what you are looking for can be found in these folders without the need to look for them in all your folders on the device or your storage card.
Instead they are all displayed in these virtual folders from where they can be retrieved easily anytime you need them.
Includes:
Documents
Encrypted Files
Images
Music
Videos
You also have the option to create your own virtual folder with the file extentions which you plan to use frequently
Very useful when looking for files of the same type

The Quick Search Function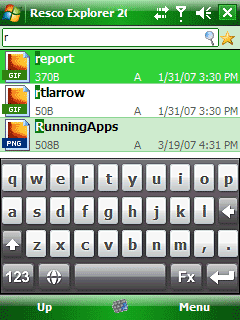 Using the keyboard, instantly search for files you need by typing in the starting letters of the file

Today Plugin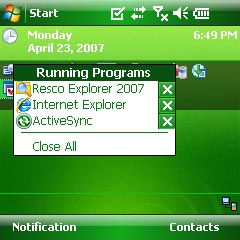 Why is it useful to install the Resco Today Plugin ?
Check your battery status and the free storage/memory directly on the Today screen.
Launch your favorite applications and documents with a single tap.
Browse the storage card with a single tap.
Manage running applications with Task Manager
Get the detailed storage properties.
Use arrows for smart movement
The File Manager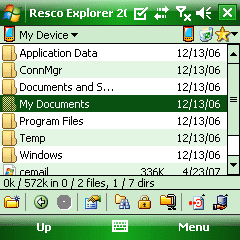 The File Manager is the HEART of the Explorer 2008.
It is stable and efficient and it provides the most comfortable way for file operations such as copying, moving, deleting, renaming, etc., including speed measuring.
It is great when you need to quickly search for files or file content. It speeds-up your work by using the Favorites folders. The system info keeps you informed about your system resources usage at all times.
With File Types Highlighting you will never oversee important file type.
Customizable keyboard shortcuts ensure you can run favourite features by pressing a single button.
Customizable startup folder ensures you will immedately start in a folder you really want to.

Recycle Bin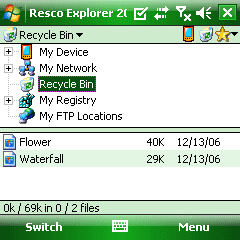 Resco Explorer now moves deleted files into a virtual folder "Recycle Bin" instead of immediate deletion.
If the file was deleted accidentally, it is now possible to restore it safely from the Recycle Bin folder.
Recycle Bin takes at most 10% of each storage. It is possible to choose the bigger or smaller space
for recycled files or disable the Recycle Bin completely.
Strong File Encryption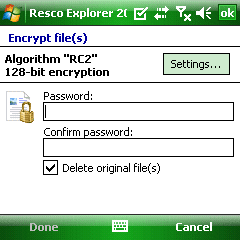 You can use the Enhanced Cryptographic Provider with strong algorithms such as RC2-128, DES-56, 3DES TWO KEY-112, 3DES-168.
We did our best to make the en/decryption process familiar looking and easy to use.
Additionally, you can also install a Windows 95/98/ME/2000/XP/Vista shell extension to use the encryption/decryption process on desktop PCs.

Archive files (ZIP, RAR)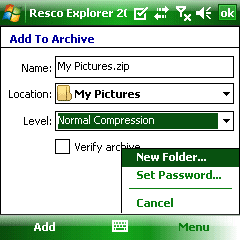 ZIP Compression can be used to increase the storage space of any storage device.
Use of this handy tool is the simplest and cheapest way to save significant amounts of storage space.
The used ZIP algorithm is PC compatible, so you can extract archives created on a desktop PC and vice-versa.
Decompression of RAR archives included.
The built-in Viewer
The built-in Viewer can be used to view files in TXT, BIN or HEX format, as well as JPEG, GIF, BMP and PNG graphic formats.
The built-in viewer implements a very comfortable text search function.
Viewing files has never been so easy.
You can use the built-in viewer also to view encrypted files (decryption in memory)
The Network Browser
The Network Browser let's you discover and take advantage of the wired-up world directly from your device.
Simply map the shared network folders and work with them as easily as with the local ones.
Various settings allow you to set your network drive in the exact way as you desire.
The Registry Editor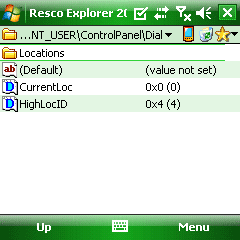 The Registry Editor is for power users only.
It allows you to export, import, view or modify the registry keys.
The interface is very simple and very powerful at the same time.
The FTP Explorer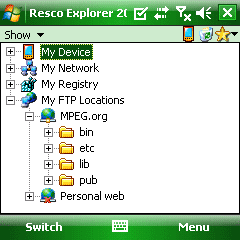 FTP Explorer gives the possibility to browse the FTP server's content directly in your Resco Explorer 2008 window. It adds the root below the "My Device" and the user is able to copy/move/delete/rename files the same way as if they were the local files.