ViewCommander-Mobile Pocket PC IP Network Camera Viewer for Pocket PCs, Smartphones, and Windows Mobile devices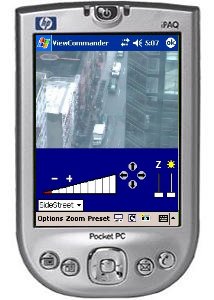 ViewCommander-Mobile lets you view live streaming video from IP network cameras from a Pocket PC or Smartphone. Control Pan-Tilt-Zoom (PTZ) camera functions with ViewCommander's built-in control panel.


System Overview
---
Use ViewCommander-Mobile to connect to your IP cameras through the Internet. ViewCommander supports a wide range of network IP cameras, and runs on most Pocket PCs and Smartphones.
Product Features
---
View Live Streaming Video from IP Network Cameras
Control Pan Tilt Zoom (PTZ) Functions
PTZ control using keypad
PTZ control using stylus*
Digital Zoom*
Digital Brightness Control*
Live Video Indicator*
Rotate Video 180 Degrees*
Save Snapshots to local storage
Real Time Video Statistics
Portrait, Landscape, and Square Screen Compatible
Proxy Support
Easy Integration with ViewCommander-NVR
Windows Mobile 2003 and 2003 SE Compatible
Windows Mobile 5 Compatible

* features available on Pocket PC's. Features not available on Smartphones.
Supported IP Cameras
---
The ViewCommander-Mobile supports a wide range of IP network cameras from these manufacturers:

AXIS, Acutvista, Approtech, AverMedia, Aviosys, Cellvision, Dedicated Micros, DLink, ELMO, Gadspot, GeoVision, G-Max, GrandTEC, Hawking, Intellinet, IQEye, Linudix, Linksys(some models, please read), Linksys WVC200, Mobotix, Panasonic, Pelco, Pixord, Plustek, Samsung, SONY, Sitecom, StarDot, Talitor, Toshiba, TRENDnet, Vivotek, USB cameras (with IVI-WebCam Server)
Similar Software:



Webcam Holmes


Webcam Holmes is a freeware application for Windows Mobile 2003, 5.0 and 6.0 based Pocket PC and Smartphone devices. It allows you to remotely monitor and watch IP webcams in real time from a local network or Internet from your mobile device

Kai's » Internet Webcams (SMP)


Kai's » Internet Webcams (SMP) - Webcams from all over the World, online, live. With this Program you can retrieve available Webcam-pictures on the Internet. Take a look at Sydney or San Francisco or trace the liftoff of the Space Shuttles to hold a view directly at the launch platform

Mobiscope


Complete video surveillance at a reasonable price! No need to purchase any expensive equipment. All you need is a webcam or network camera on your computer to record everything that goes on when you are away. Mobiscope can monitor the area for motion and transfer the recording to your Windows Mobile Smartphone handheld

Mobiola Web Camera


Turns your camera-enabled mobile phone into high-quality PC webcamera! Works via WiFi(New!), Bluetooth or USB. Screen Capture feature allows your device screen be demonstrated on PC in real-time Now you can use cool video effects! Compatible with Skype, Yahoo, YouTube, MSN, AOL IM, ICQ and many other applications and services

WebCamera Plus Smart Edition


WebCamera Plus Smart Edition Use your PDA/Smartphone as webcam with unique application - WebCamera Plus! WebCamera Plus key features: - Transforms your PDA or Smartphone to high-resolution web-camera. - Use your PDA/Smartphone as microphone! Even through Wi-Fi! - FTP-Camera feature. Transmit pictures directly from device on your FTP server

Live Media


Live Media is a new and free Peer to Peer self-broadcasting service that allows you to view slideshows, webcams and download shared files from either your own private PC or from public global broadcasters

Alnet VDRC


Alnet VDRC - World's Best Remote Client software for viewing High Definition and IP Cameras over wireless devices such as PDA's and Smartphones. VDRC Mobile is the most advanced client application of this type on the market

SmartCam


SmartCam turns a mobile phone with Bluetooth and camera into a handy webcam ready to use with your PC